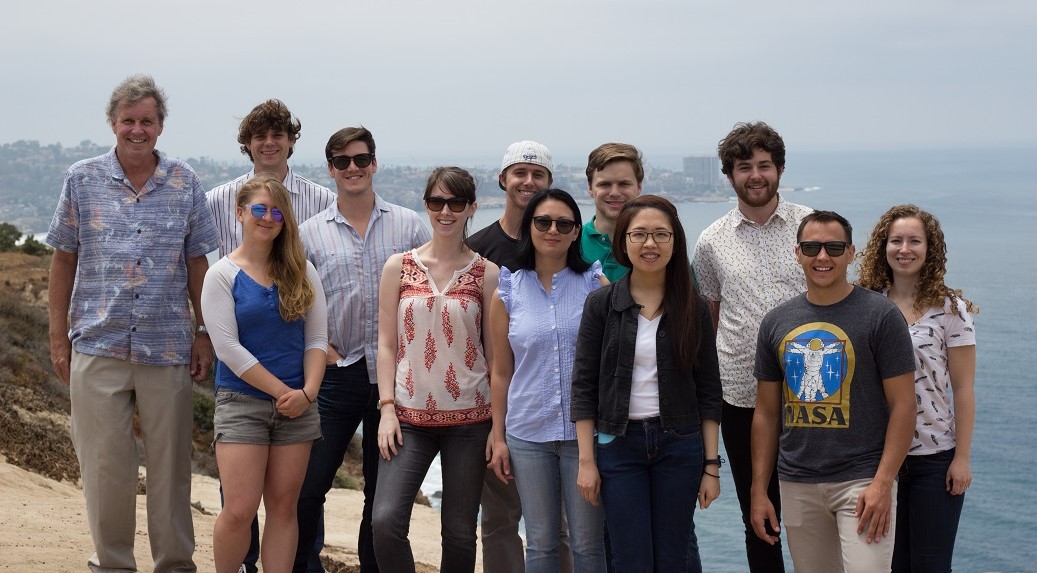 The Kubiak Research Group

The Kubiak Research Group is located at the University of California, San Diego in the Department of Chemistry and Biochemistry. The Kubiak Group is composed of graduate, undergraduate, and postdoctoral researchers performing a variety of investigative studies in inorganic, materials, and physical chemistry.
Recent Events and Publications


August 2017
- Effects of Electron Transfer on the Stability of Hydrogen Bonds. Porter, T.M.; Heim, G.P.; Kubiak, C.P.
Chem. Sci.
2017
,
Accepted Manuscript
.


August 2017
- Cliff is named the recipient of the 2018 ACS Award in Organometallic Chemistry. Congratulations, Cliff!


August 2017
- Chelated [Zn(cyclam)]
2+
Lewis Acid Improves the Reactivity of the Electrochemical Reduction of CO
2
by Mn Catalysts with Bulky Bipyridine Ligands. Zhanaidarova, A.; Steger, H.; Reineke, M.H.; Kubiak, C.P.
Dalton Trans.
2017
,
Accepted Article
.


August 2017
- Interfacial Structure and Electric Field Probed by
in Situ
Electrochemical Vibrational Stark Effect Spectroscopy and Computational Modeling. Ge, A.; Videla, P.E.; Lee, G.L.; Rudshteyn, B.; Song, J.; Kubiak, C.P.; Batista, V.S.; Lian, T.
J. Phys. Chem. C
2017
Article ASAP
.


June 2017
- Electrode-Ligand Interactions Dramatically Enhance CO
2
Conversion to CO by the [Ni(cyclam)](PF
6
)
2
Catalyst. Wu, Y.; Rudshteyn, B.; Zhanaidarova, A.; Froehlich, J.D.; Ding, W.; Kubiak, C.P.; Batista, V.S.
ACS Catal.
2017
,
7
, 5282-5288.


June 2017
- Melissa defends her thesis on June 23rd entitled "Electrocatalytic carbon dioxide reduction by bipyridine based complexes and their derivatives." Congratulations to Melissa Helm, PhD!


May 2017
- Concerted One-Electron Two-Proton Transfer Processes in Models Inspired by the Tyr-His Couple of Photosystem II Huynh, M.T.; Mora, S.J.; Villalba, M.; Tejeda-Ferrari, M.E.; Liddell, P.A.; Cherry, B.R.; Teillout, A.-L.; Machan, C.W.; Kubiak, C.P.; Gust, D.; Moore, T.A.; Hammes-Schiffer, S.; Moore, A.L.
ACS. Cent. Sci.
,
2017
3
372-380.


May 2017
- Charged Macromolecular Rhenium Bipyridine Catalysts with Tunable CO
2
Reduction Potentials Sahu, S.; Cheung, P.L.; Machan, C.W.; Chabolla, S.A.; Kubiak, C.P.; Gianneschi, N.C.
Chem. Eur. J.
,
2017
23
8619-8622.


April 2017
- Mark defends his thesis on April 12th entitled "Nickel bis(N-heterocyclic carbene) complexes: rational design strategies and new structural motifs." Congratulations to Mark Reineke, PhD!


April 2017
- Bio-inspired CO
2
reduction by a rhenium tricarbonyl bipyridine-based catalyst appended to amino acids and peptidic platforms: incorporating proton relays and hydrogen-bonding functional groups Chabolla, S.A.; Machan, C.W.; Yin, J.; Dellamary, E.A.; Sahu, S.; Gianneschi, N.C.; Gilson, M.K.; Tezcan, F. A.; Kubiak, C.P.
Faraday Discuss.
,
2017
198
279-300.


February 2017
- Hydrophobic Nanoparticles Reduce the β-sheet content of SEVI Amyloid Fibrils and Inhibit SEVI-Enhanced HIV Infectivity Sheik, D.A.; Chamberlain, J.M.; Brooks, L.R.; Clark, M.L.; Kim, Y. H.; Leriche, G.; Kubiak, C.P.; Dewhurst, S.; Yang, J.
Langmuir
,
2016
33 (10)
2595-2602


January 2017
- Steven defends his thesis on January 25th entitled "Harnessing Hydrogen-Bonding in Bio-Inspired Electrochemical CO
2
Reduction." Congratulations to Steven Chabolla, PhD!
Past Events and Publications